Indiana Solar Power
How Solar Energy Works In Your State
When the average person thinks about solar energy, they often focus on areas with warm temperatures year-round. While solar energy is certainly key in states like Florida, California, and Arizona, it is also an effective energy source in states like Indiana.
Sun Coverage in Indiana
On average, Indiana typically has up to 5 peak sun-hours each day which is plenty for most homeowners to convert to solar energy.
Solar Energy Savings
$0.12 Average cost per kW in Indiana
$144.79 Residential Savings per Installed kW
$115.03 Commercial Savings per Installed kW
Consider this study that compares the output of a solar energy system installed in South Bend, Indiana versus a solar system install in Tampa, Florida.
All information comes from the U.S. Department of Energy's NREL (National Renewable Energy Laboratory). NREL created a performance calculator for grid-connected PV systems. All calculations are based off the same size system, same electrical rate, and both were calculated as a fixed tilt system.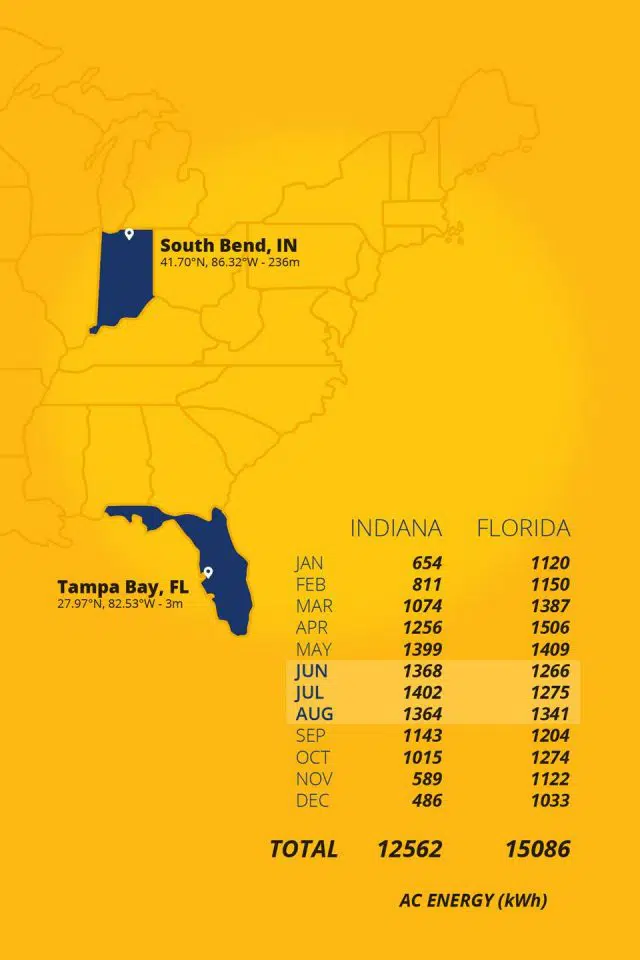 Why Go Solar In Indiana?
Conventional power sources can very easily produce harmful emissions, which hurt the environment. Solar energy is clean and renewable and a process that solely uses light from the sun, which is just about as natural as you can get.
In the United States, fossil fuels are used to generate 68% of the energy we consume! The emissions that result from burning these fuels include carbon dioxide (CO2), carbon monoxide (CO), particulate matter, and more.
Fossil fuel emissions have a variety of negative effects on the atmosphere, humans, animals, and the environment overall, which means that these harmful emissions are bad for everyone.
Solar power in Indiana has been growing in popularity partly because of solar technology improvements and partly because of tax credits and financial incentives being offered in the state.
If you're interested in going solar in Indiana, Advanced Solar is here to answer your questions. We serve Kosciusko, Elkhart, LaGrange, Noble, Whitley, Huntington, Wabash, Miami, Cass, Fulton, Marshall, and St. Joseph counties.
Need More?
Additional Information