Selling A Home With Solar Panels
Solar Panels
Posted by: Advanced Solar 7 months ago
Did you know that installing solar panels on your home means your home might spend less time on the market? Alternative energy options like solar are getting increasingly popular and can add value to your home for potential buyers.
According to Rocket Mortgage, home listings with solar spend 13.3% less time on the market and are 24.7% more likely to sell over the asking price.
If you've been considering making the switch to solar before you put your home on the market, we're here to help! Our solar energy experts can answer your questions and help you decide which solar energy system is the best fit for your home.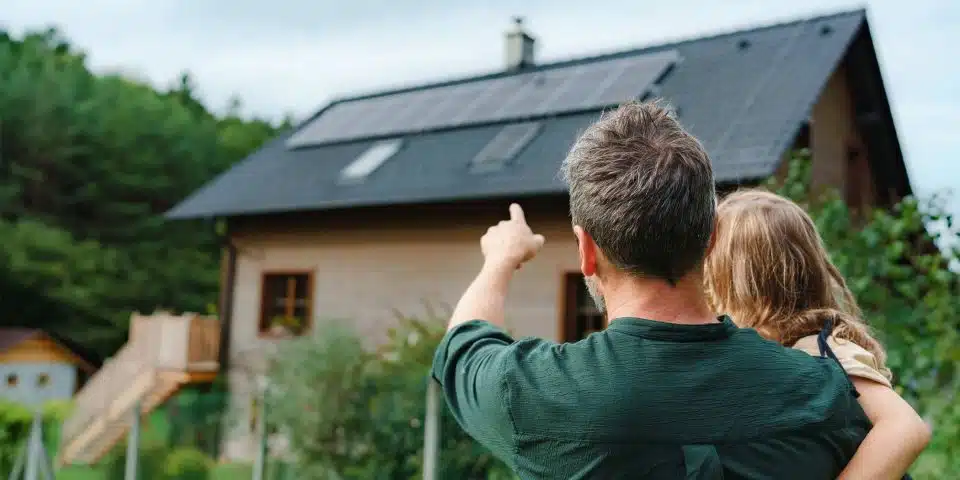 Solar Panels: A Home Seller's Perspective
As our world moves closer to clean energy alternatives being readily available, solar panels for residential buildings have become more and more popular. It's estimated that more than a quarter of homeowners in the United States have solar panels installed in their homes.
Not only that, more than 60% of homeowners are interested in having solar panels installed in the future. As a homeowner who is ready to put their house on the market, that means solar panels can only add to your home's appeal.
3 Things To Remember When Selling Your Home
Use A Trusted Real Estate Agent
Because not everyone is familiar with how solar energy systems work and the different options available, it's important to make sure the real estate broker you're working with understands the value solar panels bring your home.
Understand How Solar System Financing Works
If you purchased your solar energy system using a PPA or solar lease, that will impact how your home is listed. Before listing your home for sale, make sure you understand how that can impact any potential sale.
If the loan isn't paid off when your home is sold, you and the buyer will need to agree on how the solar lease will be handled.
Clearly Communicate The Financial Benefits
The biggest incentive for a potential buyers when they're considering purchasing a solar-powered home is how much money they'll save on future utility bills.
Make sure you clearly communicate what your average monthly utility bills are, and even what they were before you installed solar panels.
Solar Panels: A Home Buyer's Perspective
If you're looking for a new home, definitely consider purchasing one that already has a solar energy system installed. Not only will solar panels drastically reduce or completely eliminate your electricity bills, but they're also easy to maintain.
3 Things To Remember When Buying A Home
Get As Much Information As Possible
If you're considering making an offer on a home that has solar panels, make sure the seller or listing agent provides the following:
Date the panels were installed
Additional dates that panels were cleaned or maintenance was professionally done
Solar lease or PPA information (if applicable)
Warranty information
Will Solar Panels Affect Your Mortage?
If you buy a house with solar panels where the seller owns the solar system outright, it likely won't affect your mortgage at all. However, if the panels are leased, be sure to discuss those terms and any additional fees with the seller and your mortgage broker.
Check The Age Of The Roof
If the home you're considering purchasing has solar panels on the roof, it's a good idea to know when you'll likely need to replace or repair the roof. It can add additional costs to the roof repair job, so it's something to be aware of and plan for financially.
Advanced Solar Is Here To Help
Whether you're considering selling your home or are ready to look for a new house to buy, if you have questions about solar panels and what that means for the home-buying process, we can help!
Our expert solar installers are available to answer your questions and help you feel confident listing your property or deciding to purchase a home with solar panels.
You May Be Interested In: